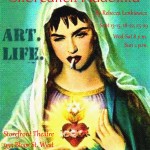 If you have ever done one of those computer 3D puzzles where as you move the pieces together they either repel each other or seem to be drawn together with magnetic force accompanied by a satisfying click, then you will understand how the directorial debut of Director/Producer Justin Tensen left the audience with the same sense of satisfaction in this two act play Shoreditch Madonna on opening night of its Canadian Premiere on Friday Sept. 13, 2013.
British playwright Rebecca Lenkiewicz interweaves the narratives of the characters with equal parts poetry and brutality.  Love, loss, innocence, guilt, unrequited love, secrets…all these play a role in her portrayal of the messiness of life and death in the East London District of Shoreditch.
Strong performances were delivered by Sasha Higgins in the role of Christina, grieving and guilty over her drug addict boyfriend's suicide and Devlin, portrayed by Earl Pastko*, who knew the boyfriend but is dealing with his own demons over a lost child. The actors are both adept at playing tough intense characters keeping their feelings at bay with busyness while occasionally allowing their vulnerability to peek through. (Photos courtesy of Austin Ball.)
The story takes place over two sets – Christina's apartment, and the artist's studio shared by Michael (Jimi Shlag*), Nick (Robbie Beniuk), and Hodge (Sean Connolly Affleck). There is quite a bit of good humour in the interplay of the characters as they deal with the arrival of the famous Devlin, an artist whose best work is behind him, and Martha (Lina Roessler*), his ex-girlfriend, for a weekend workshop. This is a wonderful setup for the storylines to be woven together, tangled, and eventually sorted out.
The small quarters of the Storefront Theatre might have been a challenge to handle the set changes however this was cleverly overcome with a system of opaque curtains that were pulled by the characters at the beginning and conclusion of scenes to reveal and obscure the different places and activities. This was quite effective and the curtains almost became one of the characters as they played a role in shielding us from what was going on behind them and giving us glimpses until all was revealed.
Finally, there was great attention to detail in the set design and wardrobe (Reuben Looyenga, Art Director; Grace Cacciatore, Costumes). The crucifix on Nick's shirt and the crown of thorns subtly projected on the wall near Christina's bedroom were poignant symbols of the suffering and ultimate redemption the characters endure.
Upcoming Performances:  Sept. 25-29, 2013. (Wed. to Sat. 8 p.m., Sun. 2 p.m.) . Canadian Premiere.   The Storefront Theatre, 955 Bloor St. W., Toronto (West of Ossington).
BUY TICKETS ONLINE:  Regular $20; Student/Rush $5.
Past performances: Sept. 13-15, 2013 and Sept. 18-22, 3013.
*Appearing courtesy of Actors Equity
Last updated: September 23, 2013 by G. MacDonald.
For additional details regarding the playwright and actors see the original blogpost