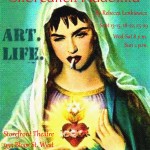 Sept. 13-15, 2013, Sept. 18-22, 2013 and
Sept. 25-29, 2013. (Wed. to Sat. 8 p.m., Sun. 2 p.m.) . The Canadian Premiere of Shoreditch Madonna will be playing at  The Storefront Theatre, 955 Bloor St. W., Toronto (West of Ossington) from September 13 to 29.
TICKETS:  Regular $20; Student/Rush $5. Purchase online  through secureaseat(r).
According to Three Seeds Productions, it is  "a play about visual artists living in the East End of London, England in modern times – but its essence is the universal desire among all beings for meaningful relationships and meaningful work. " The play is the work of 44 year old British playwright Rebecca Lenkiewicz who is best known as the author of Her Naked Skin (2008), her play about suffragettes which is better known as the first play by a living female playwright to be performed on the Olivier stage of the Royal National Theatre.  "Lenkiewicz has a knack for illuminating the lives of marginalized women" according to Maddy Coates in an article in The Guardian .
This is the Canadian Premiere of  Shoreditch Madonna, which first played at the Soho Theatre in London UK in 2005. (Information from Wikipedia.).
Director:  Justin Tensen
Actors:
Earl Pastko*
Lina Roessler*
Sasha Higgins
Jimi Shlag*
Robbie Beniuk
Sean Connolly Affleck
*Appearing Courtesy of Actors Equity
Note: this is a small venue so be sure to purchase your tickets asap! I look forward to attending the Friday September 13 Opening Night to cover the event.
Last updated: September 18, 2013  G. MacDonald